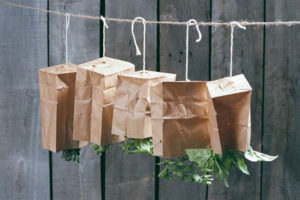 Hey there,
What the heck is Costmary?  Please be seated, I will be there in a moment.
So we're back into Summer, here in Southern Ontario. In a big way! Holy smokes.  It's like early August here this week – hot and humid.  My hair is so not happy.  Good thing I planted those cool weather seeds in my veggie gardens at the end of August >sigh< – they are struggling with the heat.  It was a good thing I didn't bring in all my potted plants.  The Rosemary is picking up a bit in the hot sun.
Before this "faux" Summer, our nights were dropping to just above freezing…Apparently, Mother Nature is having a tough time making up her mind.  It's like she's going into her closet in the morning and wailing "I have nothing to wear" and BAM! She put on her "big pants" and…mixed bag. Everyone here is a little confused.
Nice to see all the city people up here in the country this past weekend for the Uxbridge Studio Tour wearing their fine Fall apparel…complete with sweaters and boots. 🙂  They did look a little warm…Me?  I rejoice still in my sandals, even though I do love the Fall.
I am starting to gather the greenies to dry for Winter use.  My garlic has dried and is still waiting in the barn for me to brush it off and trim the tops to store.  I won't have quite enough for the entire year until next harvest is ready, but I have a fair amount.  I do use a lot of it.  So good for you!  YUM – I put it in everything.  I also like to roast some and store it in oil in the fridge.  That's nice to use in cooking.
I'm drying sage, thyme, tarragon to use for cooking.  I bring in my Rosemary and use that fresh all Winter. The basil was used to make pesto with the garlic scapes.  I like to put a scoop of that in rice when it's cooking.  Gives a nice flavour.  Also great on pizza or cheese and crackers. Mmmmmm
I've been making vinegars for salad dressing and oils for cooking and bathing.  There are many things you can use in oils.  Also a good way to use up stems at the end of the season.  Many carry good flavour.  I'm freezing parsley and Lemon Balm in ice cube trays.
Then there are the tea herbs: Lemon Verbena, the Scented Geraniums, of which I have quite a few varieties, Anise Hyssop, Mints, Lavender, Herb Robert and this year I'm going to dry some Costmary.  There it is.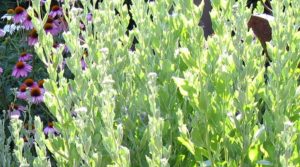 ← Ever heard of Costmary?
A lovely old-fashioned plant.  Does not grow wild here, or at least, is not native, but one small plant grows very large in just one season.  Very tough and hardy. It's the leaves that you use – it is just now producing very small yellow button-type flowers, but they are fairly insignificant.  The scent of the leaves smells like Wrigley's Spearmint Gum – you remember that, right?
Costmary is also called by other names:  Alecost, because it used to be used to flavour beer, Sweet Mary, which was used as a symbolic name for motherhood and used in a tea to ease the pain of childbirth, and my favourite, Bible Leaf, because…ready? It was used as a bookmark in bibles and was sniffed to keep one awake during particularly long sermons…not going there.  But very amusing, don't you think?  To this day, many an old family bible will sport a dried leaf hidden within it's pages.  Love it.  Whatever it's name, it has a delicate lovely scent and taste in tea.
Story time:
You'll recall that my Garden Club holds a plant auction every May.  In case you forgot, or you're new (welcome!), read.  Anyhoo, the plants in the plant auction, for the most part, come from the kind donation of the members.  One of my donations this year was a chunk of Costmary, potted and labeled with a small explanation on the label about the Bible Leaf name.  I thought that was fun.  Some people just scrawl across the pot in purple crayon, or worse, don't label at all…  Surprise!  You're the proud owner of Goutweed…YIKES!
Back to the story:
The Auctioneer did not know what it was, and there – you know there's always one – was the landscaper guy in the audience, who apparently knows everything about everything plant (ho hum – yaaaawwwwnnnn), piped up and said:
"Oh yah, that's a real old one – no one grows that anymore…"
Ummm, ok, I thought it would be neat to have some of those plants that no one does grow anymore.  You know, unique much?  Mr. cookie cutter gardener…
No, I didn't pull out my pointy hat. </:  I sat on my hands and bit my tongue…and waited.  Then the bidding started – others thought it might be neat to have it in their gardens too.  So my donation did, in fact, bring a little money to the auction.  In the words of Steve Martin:
"Well, excuuuuuuse me!"
Mr. Know Everything just fell short of calling me a weirdo.  Not directly, because he didn't know who brought it in.  Maybe I am a weirdo – but he doesn't get to call me that.  You don't get to call me that until you actually know me.  And then, ok, yes, I'm weird.  Maybe I'll invite him over to see some of the other stuff I grow – and make him some tea…Bwahahahahaaaa
Ahem – back to our regular programming.
That's my plant story for today.  Hope you liked it. 🙂  One more thing:
If a woman says
"First of all" during an argument,
RUN
She has prepared research, data and charts and will destroy you.
-Anonymous
or maybe that's just me….
The night sky!  Where are we tonight?  Ah, the Moon is in Virgo – and so is Venus!  Very feminine.  Feeling quite at home at the moment.  There you go – there's where the take it personally, properly labelled, plant story came from…haha.  It's all about work and detail.  She is in her fourth quarter – the New Moon is tomorrow night. Time to draw back and think about the last Moon cycle as she starts anew.
Today's colour is white.
I'll leave you now to tend your own garden – I'm guessing most of you have one or that you have some interest in plants…or maybe you just like to read me blathering on!  Perhaps a sniff of Costmary is in order.
Until next time,
-Debra