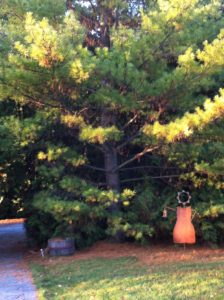 Hey there,
I know I'm not alone in thinking that really, September is the start of the new year.  Everything is new and beginning again.  I don't like to rush the seasons…OK, now I'm fibbing…we all know how I feel about Winter – it's OK for a little while, but then, enough already.
It's not officially Fall yet, but it's in the air.  Especially this year, after the "Summer that wasn't" here in Southern Ontario.  I love the Fall and it's normally such a short season, but September and October – FAB!
There are many activities art related in my area in September and October…all the things I love: shows, tours, classes.  The food is amazing with the fresh harvest.  I get the urge to make things with my hands. There's a coziness to it all and yet, I still have my gardens…it's still too early for "Jack" to take them from me.  Ahhhh  Mums and pumpkins and all the rich colour.  The sky is a deeper hue.  The fields are dotted with gold, purple, white, rust and warm shades of brown.  Darker at night a little bit earlier, but not too early yet.  Cooler for sleeping, blue jeans, maybe a light sweater or jacket, but most days, you can still wear sandals and Pearl still wears her pretty summer wheels. YAY!  What's not to like?
Mercury has been in retrograde and I have not been at all inspired to write.  Mercury being the planet of communication – you see where that came from.  Mercury plays a big role in my birth chart.  Not an excuse, just a statement.  Besides, I've been spending every spare moment outside and not in front of my computer. There will be lots of time for that later.  I'm going with the flow.
Round two of seeds have been planted in the veggie gardens.  Peas, radish, spinach and lettuce, hoping for a second crop in the cooler weather.  Swiss Chard is still going strong.  I'm harvesting tomatoes daily, made some dill pickles from my cucumbers (where I often find Niles peeking out from beneath the vines…)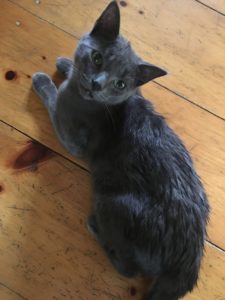 ← Meet His Royal Cheekiness, Niles!  Looks like he's wet (again) from being out in the rain (or in the garden).
There are squash on the vine, green beans are yummy as are the yellow zucchini. Carrots and beets processed and round two planted.  I've really enjoyed my veggie gardens this year and so glad that my plan from last Fall – the apple harvest bins – have worked out really well.  They seem to be just the right size for the amount I need.  Easy on my back and easy to plant and harvest – not large enough for me to go too crazy with amounts planted – but you'd be surprised at how much I can sneak in. 🙂 A saunter out to the barn in the morning with my scissors and my basket is the routine…what will I bring in today?  Happiness.  Soon, I'll be harvesting and drying the culinary herbs. Oregano is already in the jar.  Hello homemade pizza!  Can you smell it?
Some of my harvest!
Oy, the drying frenzy hasn't really started yet, but it's coming.  As is the bringing in of the plants. Very soon. My big pot of Rosemary has not had a happy Summer.  Even sitting out on the deck on the South side, where it sits every Summer, it's been too wet.  It was actually happier inside the dry house in the Winter. I'm hoping it perks up and am thinking about bringing it in now.  I'd hate to lose it, it's a good sized plant and one that I use often in Winter for flavouring.  On my bucket list is visiting those countries where it actually grows as a shrub…one day.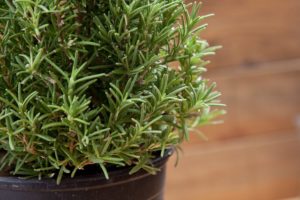 Not a wild greenie here in Canada, but Rosemary is an awesome plant.  It tastes and smells divine and is the herb of remembrance.  Even Shakespeare said so!  One of those culinary, curative and cosmetic herbs that may be used year round.  Not only tucked into bridal bouquets and wreaths for centuries, but once used as a religious herb as well.  It has been burned as incense in ceremonies as protection against evil and at funerals. Sometimes mixed with Juniper to cleanse and purify the air.  I like to use it for adding flavour to roasting meat and potatoes.  I will also make an oil with it for use in cooking and/or the bath.  A very clean scent when mixed with Lavender.
The oil from the plant leaves is antibacterial and anti-fungal.  A good "breathing" herb to relieve headaches. Used in a tea, it makes a good mouthwash.  All good reasons to bring my potted plant in sooner, rather than later!
What else am I harvesting?  The Moon's energy.  Tonight she is full in Pisces and the Sun is firmly planted in Virgo.  So an excellent time to dream big, as Pisces is ruled by Neptune and is the sign of dreams, whereas Virgo, a very grounded, Earth sign is the one to get things done and make those dreams a reality. A powerful combo.  Win-win!  The September Full Moon is the Harvest Moon, a little earlier this year.  Watch for the orange colouring.  I will be straining some bath oils this evening and using the preserved energy in the cold months ahead.
Today's colour is white.  Appropriate in speaking about the Rosemary in bridal bouquets and wreaths above.
What will you dream of under this Harvest Moon?  Make it big and then make it happen.
Until next time,
-Debra