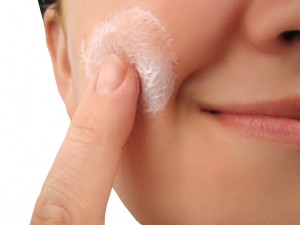 Have you ever thought about the stuff that you can't pronounce when you read the ingredients in your face and body care products?  All those ingredients seeping through your skin and into your body.  Are you tired of paying crazy prices for this stuff?  How "natural" is natural and what exactly constitutes "organic" on the label – and don't get me started on all the excessive packaging!
Please join me in my country kitchen for a cup of herbal tea and an introduction to making your own face care products.  I must warn you – it's addictive, but your skin will thank you for it!
The class is a demonstration, but hands-on to the extent that I am passing around things for you to smell and touch, so you get a good feel for what is being used.  During the demonstration, I am explaining what the ingredients are and why they are being used. Questions are always encouraged!  Ingredients are used in more than one product to make it easy and cost effective.
Product ingredients are on display and for sale in trial sizes, so you can take home everything you need to create on your own.
So, what exactly are we making?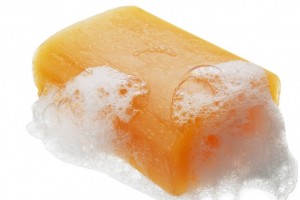 "Clean Sweep" Cleanser
Yes, my friends, we are using soap!  But not just any soap – Glycerin is to soap what cream is to milk – it's the good stuff!  To the Glycerin base we add healing Calendula, oil and powder, Tea Tree EO and Lavender EO making a bar that will lather and clean your face without drying it out.
"Shake It Up" Toner
Remember when we were taught that toner should be part of our face care regime?  Well, there was a reason for that!  Now the store shelves are full of products (that are full of chemicals) that claim to be two or three in one to save you time!  How much time does it take to wipe your face with toner after washing it?
My Shake It Up Toner is composed of Witch Hazel, Lemon Balm Infusion, Peppermint EO and Lavender EO.  It softens and refreshes your skin and closes those pores before you add your moisturizer.  Bliss!
Which brings us to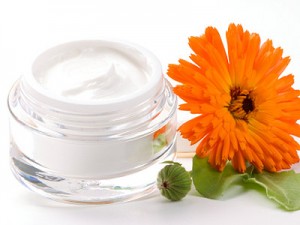 "Ready Set Glow" Moisturizing Day Cream
My all-day moisturizer, full of luscious oils – you don't need to use a lot.  Smooth this over your clean face and neck – and ladies, your neck reaches down to your boobs!  Give it 10 or 15 minutes to seep in before you add your makeup.  I put mine on right out of the shower and by the time I've dressed and fixed my hair, I'm ready for makeup.  Your skin has now been provided with a beautiful natural barrier before you add all the other stuff.  🙂
What's in it?  Beeswax, Sweet Almond Oil, Calendula Oil, Coconut Oil, Vitamin E, Vitamin C, Lavender EO and a Rose Infusion.
And lastly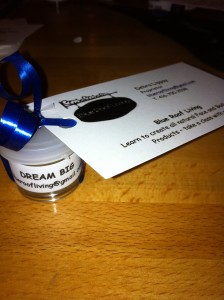 "Dream Big" Moisturizing Night Cream
My night cream does not contain much oil, but is wonderfully healing and soothing to wear on your face overnight.  Gives it that nice head start to doing it all over again in the morning!  You've heard how important it is to remove your makeup before bed and clean your skin – it really is, even when you're tired!  After cleansing with Clean Sweep, and wiping with Shake It Up, smooth Dream Big over your face and neck, avoiding the eye area.  I use Ready Set Glow around my eyes for that moisturizing oil in your sensitive eye area.
What's in it?  Aloe, Calendula Oil and Powder, Vitamin E, Wild Carrot Oil, Tea Tree EO and Lavender EO.
Sleep tight!
Please contact me at debra@blueroofliving.com to register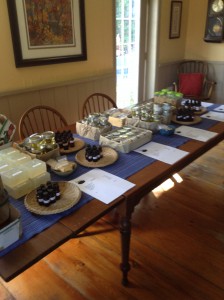 Next up – Body Care!