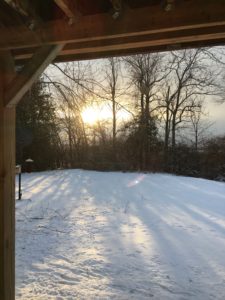 Hey there,
It's all very earth.  Anyone else feeling all this Capricorn energy we've got surrounding us?
We've got six planets in Capricorn today, including the New Moon.  Very earth.  That's right, we've got the Sun (your ego), Moon (your feelings/emotions), Saturn (maturity), Venus (love/beauty), Mercury (communication) and Pluto (subconscious).  What does that mean?
Well Capricorn is an earth sign (you've probably already got that), so that means practical, grounded (hello, the very earth), a worker.  This is the sign that follows the rules and makes sure there are lists with checkmarks and the i's are dotted and the t's crossed.  No nonsense, get 'er done.  So take the meaning of Capricorn, and apply it to the other planets above, combined with what they signify.  This is a day of working to get things finished and off the list.  Down. To. Earth.  No lollygagging!  As my Nanny (my Grandmother) would have said.  Just do it.
Fine, so here I am.  No unfinished business.  Heaven forbid (pun intended) that I mess with the night sky.
Plus it's Tuesday, and Tuesday is ruled by Mars – God of War.  Sit thee down and write.  Got it.  Check.
Sitting here in the Meadowview, looking out over the meadow.  Firmly grounded – because I am an earth sign too…  Snow is falling (STILL) and my Animal Totem just flew by.  Message received, already.  Woo woo is on full speed and spidey senses tingling.
I feel like I'm on the brink of something new.  Don't know what it is yet, but something, hmmm.  Not sure if I should be afraid or not.  Seriously, what else could happen.  The New Moon, when she is dark – the first phase.  The Sun and Moon are conjunct, or together in the sky – so no reflection.  See how that works?  Time to start something new as she waxes and moves away from the Sun to start her new cycle.  New cycle of what though…perhaps I should be afraid.
Life certainly hasn't been boring these last few years for me – maybe something great is coming.  Stay tuned!
In the meantime:
"Most folks are as happy as they
make up their minds to be"
-Abraham Lincoln
 Yup.
Me of the kittens and flowers way of thinking.  Be brave, soldier on.
Lots and lots of thinking and not getting things done.  Hmmm I am in need of the Capricorn influence.  I am so earth, I wouldn't think I could get any more…  Feeling somewhat trapped – that could be the weather.  You know how I love a good January…almost as much as February – we still have that to look forward to.  Immerse yourself in books (with tea – or wine) – and chocolate – whatever gets you through.  Looking back through photos of the summer garden, that's always a good temporary fix too – just look at that earth!  Last night's dinner contained "weeds" from the freezer. 🙂  Lamb's Quarters and Amaranth – lots of minerals…from the earth.  There's a theme here – got that?
We are having a "real" winter here in Southern Ontario this year.  None of this couple of days of cold and then back to the melt like we've had for the past few.  Nope.  Full on.  Even the milder days weren't that mild.  Reality bites.  So does that cold.  Tongue stuck on the flagpole kind of cold.
Pearl, my VW Bug rag top, sits shivering in the driveway in her ugly winter boots.  Such a fashionista and hates the winter look – covered in snow and no shiny hubcaps.  But she's a trooper.  Starts up even in -30 C weather.  Never lets me down.  Shake your head if you will all you farmers up here in your big trucks…she's the bomb in the snow.  Still plays the tunes – even with the top up (hers, not mine).
Why does the Sun always choose the end of the day to come out?  Like this last hurrah before it sets (see above).  Look at me!  I'm so bright and handsome – I can make or break your day…sorry, just an observation.  He does create some pretty shadows, but it would be nice to enjoy during the day, when I'm out shovelling…just sayin'.
Got my cranky on.  The snow plow took out the mailbox again and left it, headless, post chopped in half, lying for dead in the driveway. GRRRRRR Call to the Township – Fix. It. Please.  Township guy comes out with Scotch Tape.  Well, that should do it – until the next time anyway…NICE TO SEE YOU AGAIN.
Ok, meandering here, I know.  Let's talk about something else.
Um,
Any early signs of Spring in your neck of the woods?  I'll take anything.
Well, here, the Starlings are coming back.  Even though they are a nuisance; still a sign of Spring.  The Goldfinches are starting to get their gold colour back – and that is awesome.  I so miss the birdsong in the morning – and having coffee out on the deck under the big maple, watching the birds to start my day.  Sigh Right now I'll take the screech of the Blue Jays, lots of them here and the Cardinals – so pretty, flitting around in the snow.
Today's colour:  maroon – like red wine, or an earth red on this very earth day.  Red wine is never a bad thing – it's medicinal, you know. 🙂
Hunker down, read your books (maybe with that wine), muddle through – my Winter mantra.  I haven't had to use snow shoes to fill my feeders as yet this Winter, so that's good.  The annual face plant in the snow.  Always fun – much cursing.  Of course the tree rats do a pretty good job of beating a path to the feeders for me…
I can still get back to the barn to look mournfully at my empty apple bin gardens.  Nothing to see there.  But I know that the garlic is tucked in, sleeping, waiting – just like me – for the Sun to return to warm the earth and start the growing cycle all over again.
Breathe and enjoy the rest.
Until next time,
-Debra