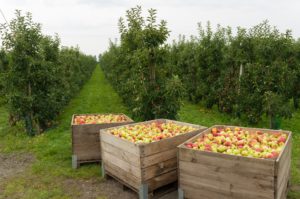 Hey there,
There's garlic in the apple bins.  Huh?  Now what's she been up to, you ask?
Weeelllll, I must make a gardening confession.  Up until now, I've been a herb and flower gardener and veggies, not so much.  Sure, I've grown tomato plants, but I've never had a proper vegetable garden.  Always wanted one, but never got around to putting one in.  It's not that I don't have the room, no, just not the equipment!  Even though I live in farm country here at Blue Roof Living, my soil is of the clay variety.  It's a tough go to put in a garden.  Then there's my meadow, full of wild and wonderful greenies who spread their seeds willy nilly.  I don't generally mind this, but putting in a veggie garden in the middle of the willy nilly spreading…you see where I'm going with this…
I've done lots of reading on this topic, as I am wont to do, regarding the most efficient way to veggie garden. There's never a shortage of books here, the Internet is full of cool gardening sites, and I joined my local gardening club this year – so I've got lots of inspiration.  My dilemma is that it's really just me that's going to eat the veggies, and though I love veggies and certainly am up for sharing, my goal isn't to garden for everyone else!  Smaller is better, but I know me…I'm going to want to try new things and plant EVERYTHING. 🙂
Soooo, I started to think about raised beds for my veggies.  Easier to create, easier to maintain and easier on my back and knees (hello, "of a certain age").  I visited an avid gardener who showed me his garden, his neighbour's garden and gave me some great tips.  Yup, that sealed it, raised beds was the way to go.
Now, building raised beds didn't look that difficult to do, but then I found myself at the grocery store, picking apples out of those large wooden harvest bins.  Hmmmm, just the right size, definitely sturdy, raised enough, so easy on the back…bingo!  You guessed it.  Now, where am I going to find someone who is selling apple harvest bins – I only want four of them and I need them delivered…Pearl (my VW bug rag top) isn't going to cut it for this project…
Ummm, can you say Kijiji?  Yup!  Got 'em delivered.
Next, finding a garden centre that is still open and carries good quality soil for growing veggies…I couldn't come up with this idea earlier in the actual gardening season (that would be way too easy).  Took me some time, but got the soil delivered too.  Now it's just a matter of many, many trips back and forth with the wheelbarrow, to fill them up.  Good thing I live with someone who works for food. 🙂
So we're back to:  There's garlic in the apple bins.  Just planted my garlic this morning after a lovely week of unseasonably warm weather, and now the rain/snow is coming and the temperature is dropping and will stay below seasonal all next week.  Feeling a wee bit smug.  Thank you to another gardener friend who shared her supply.  One of the apple bins has now been planted full of garlic. YAY!  Next year, I'll be scheming for some of the legendary Ted Maczka's Fish Lake Garlic. 🙂 Here's an interesting article from a Toronto newspaper.
Knock three times on the back door:  "Got the stuff, man?"
I'm sorry, I don't take orders
I barely take suggestions
Garlic is very easy to grow…OK, I lied before when I said all I've grown is tomatoes.  I do grow garlic.  Last year I literally threw some bulbs into a bare patch of earth without enriching the soil, watering all summer, or bothering with it at all, and I harvested the scapes, which are tucked into the freezer awaiting winter soups, stews and stir fries, and then the actual garlic bulbs at the end of July/early August. Yum.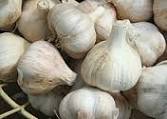 Garlic is a member of the allium family and has been around for over seven thousand years.  Something that hardy has to be good for you!  Used commonly in many countries, it's been found in the pyramids and ancient Greece.  Besides tasting awesome, there are many health benefits associated with "the stinking rose".  It helps with blood pressure and heart disease, fights off the common cold, helps detoxify heavy metals in the body and contains Vitamins B6 and C as well as the minerals copper and manganese.
Besides, how can you have pizza without garlic?
So, in addition to my meadow and my herbal medicine chest, I will now have my veggie bin gardens for high nutrition.  Fresh and yummy.  Hours of amusement ahead – stay tuned!
Lots of dreaming and scheming and seed catalogues to carry me through the dark days ahead.
Tonight's Moon is in her third phase in Leo, rising late in the evening.  Showy and social.  Look at me!  I've got apple bins! 🙂  Venus is still in the southwest when it's dark and have you seen that really bright light about mid sky before bed time?  It's above Venus.  That is Altair from the summer triangle – we discussed that here.  So bright!  Mars is still there, to the left of Altair, but not nearly as bright as he was in the Spring.
Today's colour is brown.  Brown for the earth that my garlic cloves have been snuggled into for their winter sleep.
Time to go…I've got seed catalogues to start investigating.
Until next time,
-Debra