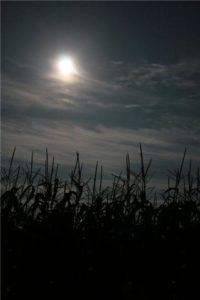 Hey there,
Ah, memories of the corporate world…
We're under the full Corn Moon in Pisces tonight and the full Moon always gets me thinking.  It represents the completion of the last Moon cycle, and depending on how you take your woo woo, a time for reflection – pun intended, as the full Moon is a result of the Moon being opposite the Sun in our sky and is completely reflected.  See how that works?
The Moon cycle is 28 days:  four quarters of seven days each.  There's that number seven again.  What else has a 28 day cycle, dear readers?  Hmmm?  WOMEN, that's what!  The Moon is feminine. 🙂  It's all so very fascinating and when you start to delve into all things woo woo, the world around you starts to make some sense.  Just sayin'.
So now, what's on my mind?  Well, I had dinner last night with a couple of co-workers from my previous life in the corporate world.  It's nice to get caught up with what's going on occasionally.  I say occasionally, because my mind has to go into that world again.  I have to leave my "earth mother" at home.  That's not easy for me now, because that's who I've become.
What I'm thinking?  I don't miss the corporate world at all.  Not one little bit.  All the politics and the back-stabbing.  The stress of it all.  Not to mention the regiment of your time and the commute.
Nope, not one bit.
I used to think I missed it.  Back in the early days, after I left, not by choice, but by circumstance.  I am now the parent to my parents.  For anyone who doesn't think that warrants giving up your job, I say:
Do not judge me until you've walked in my shoes.
Back when I thought I missed the corporate world?  I was angry, I was bitter and I resented having my life changed so abruptly, so harshly and not by my own hand.  I like to be in the driver's seat – I'm sure you've figured that out by now, if you've been following my weekly diatribe here. 🙂
So I met with my co-workers at a restaurant of my choice, on a rooftop patio overlooking Lake Ontario, where I could see our sailboat in her slip across the bay, in Pickering.  It was a place that was not far out of my co-workers' way home from work, but they had never been there before.  A place that is now a larger part of my life.  One eye on the boat, I listened to the updates of the goings on of the people and the office I'd left behind.
It was great to see my co-workers, it was great to get caught up in not only the office happenings, but with their lives as well.  We used to "do lunch" when I worked in the office.
I felt very different from them, sitting there.  I put that little tidbit to the back of my mind, to dissect later, when I was alone.
The place made me feel grounded (I am an earth sign), because we were "on my turf", sitting there, enjoying our meal and a laugh and each other, overlooking the Lake as the evening progressed and the sun set.  It was beautiful, and my dinner companions kept mentioning that.  It was beautiful; it was one of my happy places. I like to be near the water.
They looked at me with pity, for all that I've been though.  It has been a tough go.  But you know what?  I looked right back at them with the same feeling, for all that they continue to go through.  For the fact that this beautiful place that they kept commenting on, is right under their noses, in their "backyard" – and they don't have the time, nor the inclination, to visit.  To stop and smell the roses, so to speak.
I remember that feeling well.
We got ready to leave.  After our hugs and good wishes; promises to do it again soon and to say hello to everyone, I got into Pearl (my VW bug for anyone not familiar), dropped her top, cranked up the tunes and headed north.  An enjoyable evening.
It was still humid and a beautiful night to head north, with the top down (Pearl's, not mine), out of the City, away from the traffic and the lights and the people and the noise.  Back to my home and my little piece of paradise; surrounded by the plants and the dark night sky.
I realized then, that I was the lucky one.  I've come a long way, baby.
Until next time,
-Debra