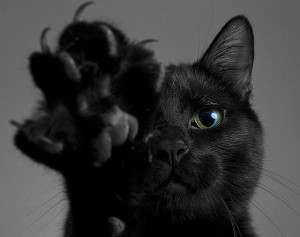 Hey there,
Did you think I'd forgotten about you?  Never!  I've been busy putting together another website for a new business venture – more about that later.
Regarding City Kitty, my daughter's cat.  A relatively new addition to her city apartment.  City Kitty was adopted from a shelter, but was definitely a house cat.  Yes, I have a grandkitty. 🙂  My daughter loves cats too (apple/tree).  My daughter also loves to travel.  Grandkitty – OK, that's enough of that – we'll call him Mr. G.  Mr. G will be spending some time under the blue roof while his Mommy gets some sun (so jealous).
I knew that was going to happen – and I'm fine with having Mr. G join us for a week.  I had met Mr. G before on a few occasions and he's a nice kitty. However, I thought it would probably be a good idea to see how Winnie and Ralph were going to deal with Mr. G, first.  Tigger loves all furries; cats, dogs, doesn't matter.  You've read about my kitties before.  Winnie, with all her mean girl attitude, is a big chicken and usually heads under the bed when someone new comes to call.  Probably would be an issue if Mr. G headed for the same bed.  Not a happy picture.  Ralph, the big tom, on the other hand, doesn't hide from anything and can be quite aggressive.  Mr. G, as I'm sure you figured out by the "Mr.", is also a tom and a younger one – he's only three.  But he's HUGE.  He's really big – bigger than Ralph.  Not good.  I wasn't sure how the two toms were going to get along.
So, Mr. G came for a two night sleepover on the Family Day long weekend (how appropriate).  My daughter told him he was going to the cottage.  Nice.  He spent the first night and half the first day under some furniture in the dining room, growling at anything/body that came near him.  The girls just growled back and then went back to their beds ignoring him.  Frankly, said Winnie, it's just too %$#@* cold to leave my bed and this fire and I really don't care.  It really was a cold weekend.  I wouldn't call Winnie "the hostess with the mostess".  OK – no trouble there!
Ralph, on the other hand, wasn't crazy about the growling.  Just who did this grandkitty think he is, coming into Ralph's kingdom growling?  So Ralph chose not to ignore Mr. G.  Ralph decided he would keep him company and just stare at him non stop (and eat his food).  Sigh.
Mr. G was cornered a couple of times – the good news is, he chose to leave his (sort of) hiding spot to use the cat box.  Yay!  The bad news – Ralph decided to put a trail on him, just to make sure he didn't do anything out of line.
The second night came and Mr. G decided he would explore.  Ralph or no Ralph.  He made it upstairs into my daughter's room – where all my stuff is now 🙂  He could smell my daughter's belongings.  Poor City Kitty.  That's where the battle began.  To shorten the story, I awoke (several times) to what sounded like an axe murder in my daughter's room.  As I waded through clouds of fur (none of it Ralph's), looking for the trail of blood, I found them facing off.  No blood, just lots of screaming, growling and hissing.  (Sort of like the high school bathroom or gym change room – you remember).
The following night my daughter came back and stayed in her old room with Mr. G.  Happy Mr. G.  And happy me. 🙂  It started to get a little better after that – just when it was time for him to go back to his own domain.
Should be a fun week when he visits again – I'll let you know how it goes … clean up in Aisle 3 …
So, the new business venture?  My husband and I are starting a steam cleaning business for cleaning and sanitizing wheelchairs and walkers – check out iSteam – website created by moi.  We are looking to go into retirement and assisted living residences to set up clinics.  So if you have any contacts – let me know!
Before I leave you, I have to say that it's 8:30 pm and I'm sitting under the full Moon and it's glorious!  This Moon is in Leo/Virgo – it transfers to Virgo overnight.  The Moon was actually at its fullest this afternoon, when we couldn't see it.  The Leo Moon is all about drama and attention and appreciation.  It's about having fun and expressing yourself.  We are moving into the third quarter where the Sun and Moon are opposite each other or in "opposition".  The Moon is reflecting the Sun's light.  It corresponds with the culmination of plans coming to a peak (hello woo woo, new business plans).  Tonight you can also see Jupiter beneath and to the left of the Moon.  Jupiter is the planet of good fortune and claiming opportunities.  See how that woo woo thing works?
Make sure you get a chance to bask a little under this Moon – and find something to be fortunate about.
Until next time,
-Debra